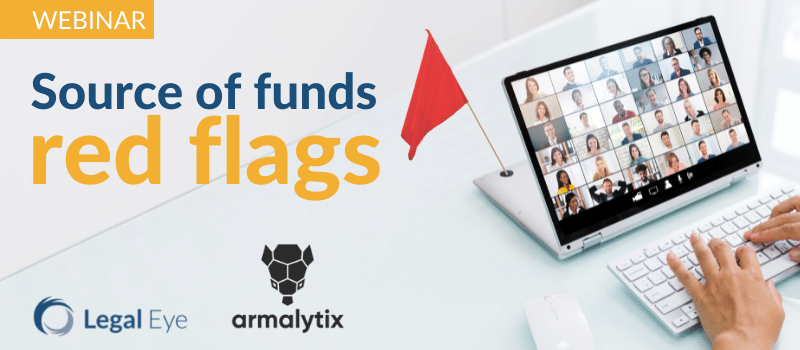 Online Webinar | Thursday 7th July | 1.00pm | REGISTER
The growing number of fraud, tax evasion, investment scams, and money laundering cases across the country has once again turned the spotlight on the importance of complying with anti-money laundering (AML) policies. We are all more than aware of the fact that law firms are required to monitor and investigate the source of funds they accept from their clients in a legal transaction, but just what does it all mean and how does it work in practice? What is the difference between Source of Funds (SOF) and Source of Wealth (SOW)?
In 2020/21 there were 273 money laundering reports made to the SRA about potential breaches of the regulations, 38 of which involved failure to carry out source of funds checks.
Does your firm know what it means to have a comprehensive source of funds check? What is the impact of the SRA report and the LSAG Guidance from earlier this year?
On Thursday 7th July at 1.00pm we welcome Tom Lyes, Head of Legal and source of funds specialist at Armalytix. He is joined by Norman Denton, Senior Compliance and Regulatory Specialist from Legal Eye, for a discussion about the practical aspects of dealing with source of funds and source of wealth and how building a single source of truth is key when protecting the industry against fraud.
Norman will share insights gleaned from hundreds of file reviews on the common themes and trends that he is seeing from a source of funds perspective. He'll suggest areas for firms to focus on, highlight some red flags and provide an update on what tactics criminals might employ to launder money.
The webinar will also delve into some useful regulatory guidance and signpost some resources on source of funds.
Register here today and we will send you the recording if you can't make this must attend webinar.