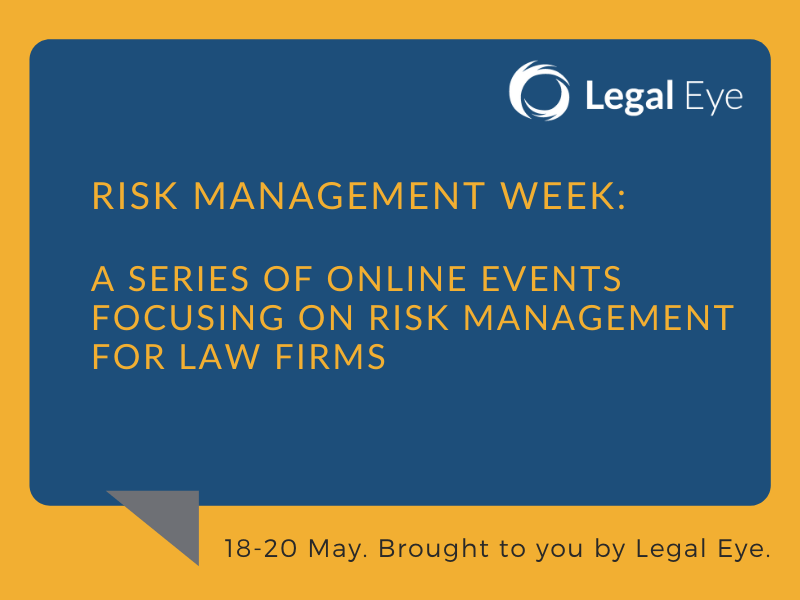 Planning ahead as we emerge from Covid-19
Join Legal Eye for a series of events from 18-20 May 2021 focusing on how law firms should be adapting risk management strategy and processes in response to the pandemic and as restrictions start to ease.
We're bringing together the SRA, law firm leaders, MLROs, COLPS and COFAs, industry commentators, compliance experts and a series of guest presenters to share experiences and reflections from the past year and – critically – to look ahead to the positive and practical actions that law firms can take today to protect their businesses and clients from significant risk.
We'll hear from the SRA and from risk management experts as well as from peers in law firms who are grappling with a rapidly changing risk landscape on a daily basis to share some of the solutions they've found and discuss predictions for the coming months.
Please register to attend. You are free to attend all of the sessions or to pick and choose as you wish. Sessions will be live with a recording available to all those who registered after the event. Events are free of charge.
Risk Management Week from Legal Eye
Tuesday 18 May 2021. 11am – Law Firm Panel: Trends in Risk Management
Legal Eye Managing Director Paul Saunders chairs a panel of law firm leaders and those with risk management responsibility. We will discuss the major challenges that firms have faced so far during the pandemic; outline the priority areas for the next few months and share our experiences.
The panel will be chaired by Legal Eye Managing Director Paul Saunders. Panellists include: Paul Norris, Managing Director, Gordons Property Lawyers; Victoria Mortimer, Partner, Knights plc; Angela Hesketh
Director and Group Head of Property Department, Jackson Lees; and Andrew Graves, Managing Director and Solicitor, Rowlinsons Solicitors.
Wednesday 19 May 2021, 11am – Securing the Financial Future of Your Firm
As firms continue to face unprecedented financial challenges as a result of the pandemic our expert panel will share tips about building a secure financial strategy to secure the long term future of the firm. We'll discuss how to maximise revenue and profitability as well as building a strong cash position, share tips on achieving the most favourable PII premium and the impact of changes to working practices and use of office space.
We'll also cover critical aspects of risk management for the finance function touching on the use of technology to improve efficiency, preventing cybercrime, managing 'hybrid workers' effectively, and how – and what – to measure for maximum financial performance in a post-Covid environment.
The panel will be chaired by Legal Eye Managing Director Paul Saunders. Panellists include: Fran Gibbons, former FD of a top 50 UK law firm; Robert Blech, Director, MHA; Colin Taylor, Divisional Director of insurance brokers Howdens; Alex Holt, Director of Business Development, The Cashroom; Richard Wyatt, former law firm FD and now Consultant, Baskerville Drummond.
Thursday 20 May 2021, 11am – SRA Update – Benedict Fisher, Director of Communications, SRA
SRA update – the latest from the regulator and an opportunity to ask questions about the SRA's stated priorities for the coming year including the latest information on anti-money laundering, its transparency rules, and the impacts of the new SQE.
Benedict Fisher is a communications specialist with experience across a range of sectors, including regulation, property, utilities, arts and business tourism. He joined the SRA, after heading up communications at Ofwat, the economic regulator of the water sector. He has previously worked at Marketing Birmingham and Nakheel, the property developer of the Palm islands in Dubai.