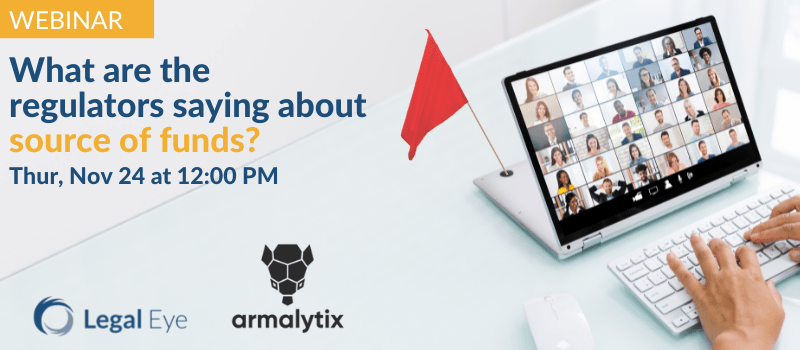 Thursday, Nov 24 at 12.00pm | WATCH THE RECORDING HERE | VIEW SLIDES HERE
The current state of the UK economy, the effect of war and the fact that Great Britain is in 'second place' for global money laundering makes the responsibility on law firms and adherence to AML regs imperative. Non-negotiable.
At the end of Oct 2022 the SRA released their AML Report for 2022. CLC have also released a report earlier this year.
Join our Senior Compliance and Regulatory Specialist, Norman Denton and Tom Lyes, Head of Legal at Armalytix for a comprehensive review of both reports.
What can you expect?
As the SRA in particular have promised to increase their inspections and desk-based supervisions, this webinar has all the essentials covered:
What were the findings?
What are regulators looking for?
What to deliver for Independent Audits – Hear first-hand experience.
What can we expect in 2023? What are the emerging risks, areas of focus and most common failures?
To find out more about how Legal Eye can help your firm please feel free to contact us on [email protected] or you can direct any specific questions to Norman via email [email protected]