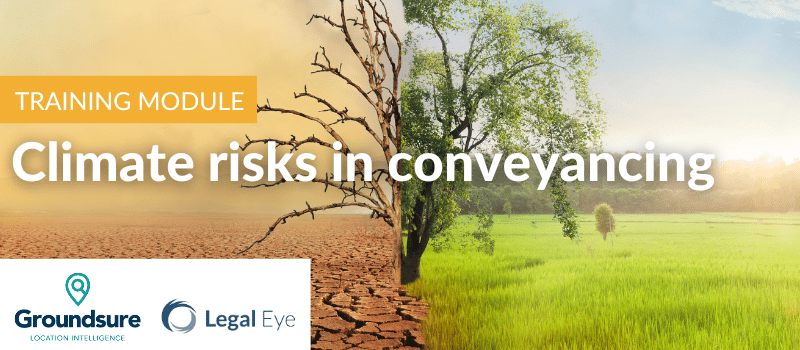 In April 2023, the Law Society published new climate change guidance outlining the legal duties that solicitors owe to their clients regarding climate risk. The advice also sets out how firms should assess and reduce the impact of their operations when it comes to climate change.
While acknowledging that "solicitors should not advise on climate change physical risks where it is outside their knowledge or qualification", the guidance alerts solicitors to the risks they face should they fail to understand and discharge their legal duties. With climate risks already affecting the value of land and buildings across the UK, the guidance is especially relevant to conveyancers and other lawyers working on property transactions.
To aid compliance and protect the sector from possible professional negligence claims, Legal Eye and Groundsure have teamed up to create a new training partnership that provides climate risk education for conveyancers.
The Impact of climate change on solicitors
'The Impact of Climate Change on Solicitors' comes in two parts. Part A establishes how organisations should manage their businesses in a manner consistent with the transition to net zero. Part B provides details on the climate change legal risks that affect the professional duties owed by solicitors.
The guidance provides examples of why solicitors must consider climate legal risks. For example, the rise of extreme weather events could impact commercial and corporate transactions and lead to an increased likelihood of litigation. While flooding, fire, inaccessibility, insurability, and availability of capital investment could affect real estate transactions.
Climate-related legal risks impact the following general duties of solicitors:
Duty of care. Conveyancers may have to look beyond the narrow scope of an instruction to consider whether, and to what extent, climate legal risks are relevant.
Duty to warn. Conveyancers must tailor their approach to climate risk warnings for each client.
Duty to disclose. If a conveyancer becomes aware of climate change risks that might impact a client's interests, they should disclose them. Depending on the client, the conveyancer will need to adapt how they disclose information.
Duty to uphold service and competence levels. As well as understanding how climate legal risks impact their practice area, conveyancers should be upfront when work is beyond their capacity and know when to seek expert or additional advice.
The Law Society accepts that "not all solicitors have expertise or training in matters relating to climate legal risks". However, it states that this awareness and acknowledgement will grow as solicitors undertake training as part of their professional development.
Climate Risks in Conveyancing Training
Hosted on the Legal Eye Academy platform, the new training module will educate legal teams on climate risks and the duties they owe their clients. Delving into the latest guidance from the Law Society, the training by Legal Eye and Groundsure will provide conveyancers with an understanding of how to:
Incorporate climate analysis within their overall environmental search reporting.
Identify existing data and drafting tools that can assist with a consistent approach to client communication.
Explain any risk effectively to both clients and — if valid — lenders.
Conveyancers will be tested on the module's content and receive a certificate of competence which can be held on their training records when they pass.
Commenting on the collaboration, Paul Saunders, managing director of Legal Eye, said, "To give their clients compliant information that can be relied on consistently, firms need both the right data and the right approach to using it. They can't go beyond this in terms of advice on climate issues, but they can ensure that their conveyancing team is de-risked and alive to the need to incorporate commentary on any risks.
The new Groundsure module on our Training Academy platform provides an effective, high-level way to provide accessible certification on climate risks in the property transaction and how to mitigate them.  It reflects the importance of keeping up with the changing regulatory landscape and that all staff are well-informed and understand their day-to-day responsibilities in terms of the conduct of matters."
David Kempster, Groundsure's marketing director, added: "With property transactions representing a high compliance risk area already and with the value of assets at stake in the future, climate risks are areas that will become of increasing fiduciary concern to partners, COFAs and COLPs.  Now that the Law Society has released its guidance on climate risks, there is more of a focus than ever on how firms are communicating risks to their clients.
"That's why we've developed this training programme: it reflects the Law Society's call for better support and education on climate risk for lawyers — both from their original Climate Resolution and also now in the Guidance.   The module, which can be delivered as and when teams need it, will walk legal practitioners through the need to incorporate climate analysis into their overall environmental search reporting as well as how to use the tools available, such as climate clauses, so they can be consistent in their approach to client communication."
For more information email [email protected] or call 020 3051 2049